Mac & Cheese is a classic. One of the all time greats when it comes to yummy comfort food during the winter… or any season for that matter. You just can't go wrong with it. My only problem with Mac & Cheese though, besides the obvious inclusion of animal products, is that it's just so unhealthy.
Yes of course there are times where we don't mind being indulgent and naughty, but I LOVE Mac & Cheese, so if only there was a recipe I could use multiple times a month *cough* week *cough* where I didn't feel bad for eating it.
Fortunately this recipe is just that, just the right balance of cheesy and healthy; it firms up perfectly in the oven and you can customize it and top it literally any way you like – this recipe is the perfect blank canvas for anything you want to do – some ideas:
Mix in the red sauce from Andreea's Mediterranean Pasta (having blended it first) for a twist on a pasta bake
Top it with the BBQ Jackfruit (like I did on this occasion) from the Pizza recipe or some Linda McCartney Duck Style Shreds (with maybe a hoisin sauce?)
Just make double the amount, smash it with Ketchup and eat it all in one sitting, I'm not judging!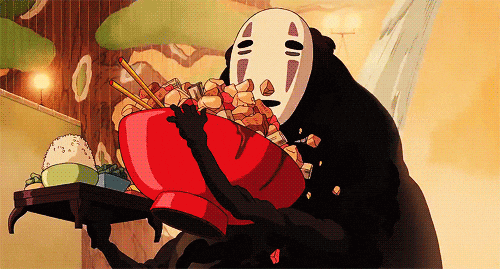 Also hats off for finding the perfect use case for a Spirited Away gif as it's my favorite movie EVER.
It's always the oil issue for me that prevents me eating Mac & Cheese more often, because it's just SO full of saturated fats and oils, especially when you make a vegan one and it's FULL of coconut oil. Given you're already just eating carbs, it feels like the ultimate food sin to just slosh in melted cheese. This recipe actually relies on some very simple but effective ingredients to achieve a magical outcome – and like I said, you really just use this as a base and mix in whatever you have going spare to make it a "[INSERT YUMMY THING HERE] Mac & Cheese".
We had Jack Daniels BBQ Sauce, Jackfruit and plenty of spices, so for me, that just made sense – and O-M-Goodness LOOK AT IT.
It was everything I needed right now in my life, and I'm not ashamed to say I had 2 servings, both of which probably could have killed a regular human by amount alone. It was just so good – Andreea will tell you, I tried some from the serving spoon and just laughed. It was beyond all expectations.
So if you ever feel like you just need something indulgent, magical, tasty, gooey and yummy, but without the same kapow "you're resigned to the sofa, bloated and full, for the rest of the evening" feeling, then try this one for size!
Kill me now, I'm already in heaven Mac & Cheese
Servings: I'm not going to shame you, however much you like
Difficulty: Easy
The basis for a great themed Mac & Cheese, top with anything you like for a delicious, creamy dinner! Serve with salad or more Mac & Cheese.
Ingredients
Ingredients:
(Optional)
240g Macaroni (use GF where available)
150g Cashew Nuts, soaked in boiling water for 10 mins
5 tbsp Nutritional Yeast
275ml Non-dairy Milk of choice (I went with Almond)
3 Cloves Garlic, very roughly chopped
1.5 tsp Sea Salt
1 tsp Cracked Black Pepper
1/2 tsp Onion Powder / Granules
Juice of 1 lime
1 medium Sweet Potato
2 heaped tbsp Tapioca Starch (Corn Starch might also work, but I haven't tried it)
Some kind of "topping" – I made the Jackfruit from the Pizza recipe here and just swirled it into the Mac & Cheese before baking
Directions
Pre-heat the oven to 190C and cook the macaroni slightly al-dente as per packet instructions
Whilst the macaroni is cooking, microwave the sweet potato in a microwave-proof dish on high for 4.5 minutes until soft and the inside can be scooped out (make sure to pierce the sweet potato a few times before doing so, so the steam can escape)
Discard the sweet potato skin and put the flesh into a blender (I used the Nutri-Bullet) with the rest of the ingredients and blend until smooth – if it is like water, add 30g more cashews and 2 tbsp more nutritional yeast, if it is too thick (won't run) add an extra 50ml plant milk
Mix the blended sauce with the macaroni and tip into a ceramic baking dish and (optionally) stir in any additional ingredients you would like to form a swirl
Bake in the center of the oven for 15 minutes and then grill (broil) for a further 5 until dark and crispy on top
Serve & enjoy
Buon Appetito!
The world is a pretty crazy place at the moment so hopefully this post inspires you, and we would love to hear what you're cooking and also we'd love to see your attempts at the above dish and how you change it to be yours, so tweet us @rockinblues and @PlantBasedSQL on Twitter and let us know your snug story!