Any of you who know us, know that Andreea and I work our bottoms off. All. Day. Long. We really love our jobs and so every single day we like to get stuck in and be as productive as we possibly can – this has positives and negatives as you can assume.
Positive: We're well respected at work, neither of us is ever told we're not pulling our weight.
Negative: We are shattered. Like… Incredibly tired, most of the time.
So there are times where we desperately NEED to get away to somewhere we can just be ourselves; chill, read a bit, maybe cook something, enjoy a glass of tasty wine… you know, just be. We were fortunate, then, when we were gifted a Virgin Experience Voucher from a dear, wonderful friend of ours for our wedding; a voucher for a night at a place we had never even heard of: Retreat East.
Originally we had booked to go away on our 1-year anniversary, unfortunately this fell right in the middle of UK COVID Lockdown, in May. So the night was dutifully cancelled and we revisited the drawing board (i.e. had to extend our voucher) – Virgin Experiences weren't super helpful about getting this sorted, because the voucher wouldn't be valid and in the end we ended up paying extra to extend to 2 nights, including 1 dinner and a massage each, and instead we booked for September, a Sunday to Tuesday. Sadly this voucher is no longer available, but given what I'm about to write it turned out that for us, it was incredible value.
Sunday
We had received a call the week before to book in our lunch, dinner and the massage and had opted for immediate relaxation i.e. we booked our massages at 1.15pm and 1.45pm (back to back) for immediately before we could check in, at 3pm. So we set off in Stella (our little Vauxhall Corsa) for Retreat East and fortunately it was only about an hour away!
We spent the time in the car listening to Dr Rangan Chatterjee's Podcast: Feel Better. Live More. Which is an inspiring and thought provoking podcast to help you lead a healthier, more mindful life (and we would highly recommend it!) – we bumbled along the A14 quite merrily, little did we know what to expect…
First of all, we parked in their dedicated off-immediate-site car park (which was very easy to find) and the walk to the accommodation "centerpiece" The Great Barn was short, but beautiful. Postcard beautiful.
The Great Barn is like Mission Control, surrounded by the bookable accommodations (barns and rooms) . It's the beating heart of most things that happen at Retreat East so it is the welcome reception where you check-in, where you book activities and where you eat and drink (if you're not cooking for yourself – although you can pre-order meals to be delivered by them to your accommodation and they'll bring it across for you). We were welcomed in the warmest possible manner and we immediately knew what kind of stay this was going to be.
The staff here are IN-CREDIBLE. Beyond anything certainly I've ever experienced. No request is too small or trivial, your happiness and wellbeing is their top priority and everything they do is with a smile. They had all the necessary precautions in place to be COVID secure including contactless sanitizer sprays on entry and exit. But then to be fair, look at where they get to work:
It's called the GREAT barn for a reason right? Plus they have pictures of cows on the walls, so this place was an immediate hit with me!
We "soft checked in" and the team were happy to accept our bags and hold them in storage for the time being, and we were handed health check forms to fill out for our massages, so we lounged happily on the sofas in the middle of the great barn and filled them out – we were pretty thirsty from the car journey as it was quite hot, so we went to the bar and ordered some sparkling water, which they were already happy to put on the barn we were staying in even though we hadn't checked in yet, as they're pretty darn flexible.
Then we got to meet Andrea. Coincidence? I like to think so. She was our massage therapist for the afternoon and she took us in turn through to the massage rooms in The Great Barn for our pre-booked back massages – they were as calm and welcoming as you expect, with wonderful ambient music and a deliciously relaxing aroma in the air (AND all safety precautions were being followed – I was completely at ease):
Honestly the picture doesn't do it justice. Additionally, nothing I write here will do ANY justice to the magic Andrea managed to do with my back. 30 minutes flew by and she was even able to put up with my incessant talking (Kudos! Few people can!) – but I can honestly say that I left that room feeling uplifted, calm and "melty", I don't even know if that word fits here, but it's how I felt. Like warm butter.
Once we were suitably smoothed out we decided to grab some lunch and in the time I had been gone, the barn we were staying in "The Nook" had been prepared and we were even allowed to check in early; Andreea had already taken the bags and unpacked the food in just the time I was away… so I got away with that! Score!
Let's talk about the lunch. O-M-Goodness. This was the start of Chris and Andreea's "fun with fabulous food" adventure at Retreat East. After a very very slight blip that involved a platter of Meat (which was rushed away – my bad entirely for poor communication) we were presented with a platter of what can only be described as the perfect light lunch after a massage to enjoy in the sun:
Fresh bread, vegan arancini, olives, homemade hummus, olives, salad and roasted vegetables. I was in heaven. Actually for the cost (£16) it was MORE than enough, and with an alcohol free beer on the side I was stuffed.
After we finished and put lunch on the room I waddled (Andreea glided, naturally) over the beautiful bridge they have right in the center of the courtyard and found our way to The Nook.
I was genuinely out of breath at this point because how many times can someone gasp with excitement in a day and not faint? Well, I pushed my own limit in just a couple of hours! THIS is The Nook:
It's a small-ish barn for 2 people and it is warm, cute, clean and everything you could want – it even had a full kitchen (fridge, oven, hob, microwave, crockery, cutlery etc.), a separate toilet and a shower room with it's own skylight.
Once we arrived, of course, we immediately set to work… relaxing still further.
We began our Sunday chill with the latest video from our YouTube addiction, Flying The Nest (and we have just signed up for their video editing course! Whoop!) but then we migrated outside to the decking to enjoy a delicious glass of white wine, play some cards and enjoy the gradual sunset.
It was perfect.
The only thing that could top off the perfect day, would be the perfect dinner, and that is exactly what we got. Retreat East have an incredibly Vegan-friendly menu for all meals, for which we are of course very grateful. We enjoyed stuffed courgettes, had a beautiful view (well two, if you include my view across the table!) and then came the dessert and Andreea fell in love all over again…
The sticky toffee pudding was beyond anything we've had as a dessert. It was rich but not too sweet, and perfectly balanced out by the plant-based ice cream. The blackberries on the plate did nothing for me personally, but they were just garnish anyhow – the pudding left Andreea thinking about it not only in the hours after dinner, but for DAYS after.
Full, happy and completely relaxed, we hit the sack ready for another day.
Monday
Monday morning for us was unfortunately an early start. Andreea had an important 1.5 hour meeting at work and even though we were on annual leave, it was important that she was a part of it, naturally being the understanding, wonderful husband that I am, I was absolutely fine with this…
Plus it gave me the opportunity to get back into a couple of my Pokemon saves on my 3DS – yes, yes, I should have read a book, you're right. But I didn't. I just chilled out.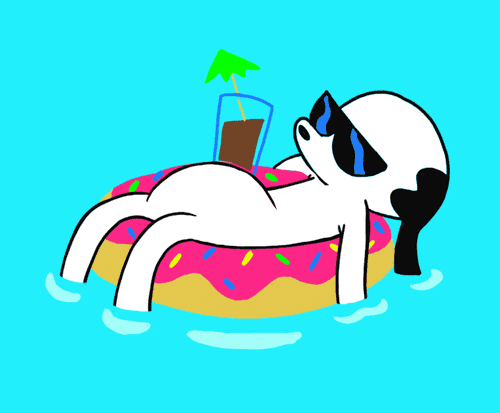 We started the morning early with some toast topped with avocado & hummus with fresh tomatoes and some coffee though, to make sure Andreea was fed before her meeting, and I was fed because, well… Chris like food – and it was super tasty (massive thank you to my wonderful sister who provided the delicious bread):
After Andreea's meeting, the folk at Retreat East were kind enough that even though we had missed the breakfast end time by a few minutes, they still agreed to put us together a lovely vegan breakfast (that for us was just an early lunch effectively). It was so delicate and sophisticated, but still comprised of everything I could possibly want on a brunch plate: toast, tomato, mushrooms, wilted spinach, potatoes, avocado and these beautiful homemade vegan sausage… uh, things, that looked a little odd but which were utterly delicious:
After brunch Andreea and I got ready, enjoyed one further coffee and then went out exploring. The sun was high, it was hot and beautiful and we followed a trail, possibly in the wrong direction and we ended up on a road which we could no longer continue on… so we headed back. Just as well because Andreea was being attacked by all manner of "nature" so it was about time to save her, but that doesn't mean we didn't see a fair amount of the local countryside and get some fabulous pictures taken too:
Don't be fooled, we were out for some time and got quite a few steps in, but we decided it would be safer to enjoy putting our feet up back at base, and in true style we weren't just relaxing in the barn this time. Oh no.
It was hot tub time. Fortunately, although they can't provide the sauna/steam rooms that is part of their spa facilities at the moment, Retreat East are still doing 1 hour booking slots where you can reserve the hot tub and then go and chill in serenity and peace – so booked 5-6pm thinking that it would be the perfect time to relax with some jets.
Honestly we relaxed all of 20 minutes because, in our infinite wisdom we picked the point in time that the hot tub was perfectly in the setting sun, and on that particular day the setting sun just so happened to be VERY hot. So we did enjoy the warm water and the jets, but sadly couldn't cope with the heat, so got out of the metaphorical kitchen and headed for our post-dip shower. It was just as well, when we got in the water was a little… green. We weren't quite sure whether or not to go ahead, but could smell chlorine quite clearly so went ahead… nothing has fallen off yet!
A note on the post-dip shower though – the barn is kitted-out with these organic rose products for body wash, shampoo, hand wash etc. and you can actually BUY them from Retreat East on departure – my biggest regret from our 2 days there is not picking up any of the body wash, it cleaned you AND left you smelling like a glorious piece of Rose Turkish delight! (Set your shower hot enough and you could resemble one too!)
After the shower though our evening started winding down – excited to star gaze through the skylight above the bed for a second night (Andreea that is, not me, my head hits the pillow and I'm out like a light! It's a gift) but still with a few hours left to go, we prepped some dinner – in true Snug Vegans style we went for something delicious and cosy, Gnocchi in a spicy tomato and chili sauce, topped with homemade vegan parm with a side of fresh salad and a glass of wine:
and we watched the sunset as we played games, talked and drank into the night:
That, as they say, was that. We enjoyed another delicious vegan breakfast the following morning, cleaned our barn a little and said our sad goodbyes to this wonderful place, hidden in the Suffolk countryside. It was a little bittersweet as we realized over breakfast that we probably wouldn't be able to return as the accommodation (rightly so for everything you get) is a little expensive for our budget – but who knows, maybe one day.
Summary
Retreat East is the most glorious, relaxing and all round enchanting holiday retreat we have ever had the pleasure of staying at. From the insane comfort of the bed (we even looked to find out the mattress brand, we want one!), to the unbelievable food or the professional, courteous, friendly staff (and incredibly highly skilled in Andrea's case!) – it really is what it says on the tin: luxury in a natural, quiet setting with everything you could possibly want including a full bar (yay!), copious healthy options, delectable vegan dishes and a massage that is to die for.
Snug Ratings
– Comfort: 10/10
– Value for Money: 8.5/10 (it is definitely, 101% good value, but it is a bit pricey)
– Staff: 11/10
– Vegan Friendly: 9/10 (Excellent vegan options, but could use a little more choice at dinner)
– Would Return?: A million times yes.