I am a bit of a brunch nerd. A Brerd? A Nunch? Well, I don't know quite how to describe it, but boy oh boy I _love_ brunch. And not (just) because it's a good excuse to have a mimosa at like 11am.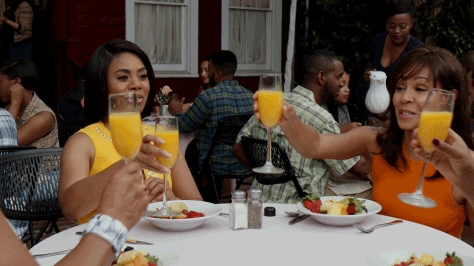 No, the reason I like Brunch is because it gives me ample time in bed to snooze my alarm the required 6,734,900 times before I decide it's actually time to get up, plenty of time to cook what we're going to have (which means putting more care and attention in) and because it means I can immediately get on with something afterwards, without having to worry about cooking again or taking a break (for Lunch) from a potentially large task I want to get done before dinner.
Normally our brunches consist of something savory, in fact you've already seen my post on the super easy frittata we often have, but besides that and a good fry up, sometimes it's nice to have something with a bit of sweetness to it. So a while back all I would make was pancakes.
Pancakes, pancakes, pancakes. Every. Single. Weekend. And don't get me wrong, these were lovely, fluffy, (coconut) oily delicious unhealthy things. But they lacked variety and, like I said, they were not doing my arteries any good whatsoever.
Now some months back we were bought a waffle maker as a gift, this one to be precise:
And because we were yet to move house we hadn't had the chance to use it yet (lack of space, you see) but now it is proudly present on our kitchen sides in all it's glory! So naturally we transitioned to waffles, instead of pancakes. This doesn't mean we can't still like both waffles AND pancakes, so don't panic Parry Gripp!
Initially we started with this wonderful recipe from Alison's blog Loving It Vegan – if you don't follow Alison, go do that now, I'll wait…
Ok, all done? Cool!
So we have practiced these waffles a good few times now and I'm pretty sure I've gotten into a good groove – we've swapped things out and in and changed it enough to work perfectly for us every time – naturally though for me, it all comes down to prep!
I particularly like this recipe because it's very simple (starting to pick up a theme are we? Yes ok I like simple recipes because let's face it… I'm pretty simple). Dry ingredients go into dry and wet go into wet and then they all come together in a beautiful harmony a.k.a waffle batter.
I like to be a little bit different though, and remembering we're trying to be healthy here I also like to add ground flax seed to the mix, woohoo omegas!
and with a bit of luck, some whisking and making sure you oil the waffle maker so you don't ruin the waffles and having to pry them off into a congealed mass of part cooked waffle batter and a teeny sprinkle of love, you'll end up with an end result that looks like these beauties:
Banging Brunch Banana Waffles
Servings: 4 large waffles
Difficulty: Easy
Rating:

★★★★★
A deliciously simple and satisfying weekend brunch for the family, top with whatever you like, go healthy... or not!
Ingredients
For the Waffles:
235g whole Spelt Flour (use GF if preferred)
3 level tsp GF Baking Powder
1 tsp Vanilla Bean Paste
1 heaped tsp ground Cinnamon
3 medium Bananas, chopped into chunks (ripe, but not too ripe)
1.5 tbsp Coconut Oil
1/2 tsp Sea Salt
300ml Soya Milk (or other non-dairy alternative)
2 tbsp ground Flax-seed (Lin-seed)
(Optional) Toppings:
Peanut Butter (crunchy or smooth, no judging – I won't tell you how to live your life!)
Raspberries
Blueberries
Maple Syrup
Plant-based Chocolate Hazelnut spread
Your own choices
Directions
Sift the dry ingredients (flour, baking powder, cinnamon and salt) together into a large bowl making sure to avoid any clumps and then make a well in the center
Melt the coconut oil using a microwave (or alternative)
Put the banana chunks, vanilla paste and non-dairy milk into a blender (we use a Nutribullet) and then blitz briefly until just smooth
Start heating the waffle maker / iron on the side and prep some neutral oil to line the waffle maker and prevent sticking
Pour the coconut oil and half the banana mixture into the bowl with the dry ingredients and gently whisk until incorporated, then add the remaining banana mixture to loosen up the batter
Add the flax-seed / linseed to the mixture and whisk until just incorporated
Oil up the waffle maker and then ladle in some waffle batter, I tend to find 2 full ladles does the job per waffle
Either wait for around 3 minutes for the waffle to be done, or if you have a fancy waffle maker that tells you, follow it's instruction instead!
Serve and top with your favorite toppings, and hopefully lashings of delicious coffee!
Andreea and I love this recipe and honestly we can't wait for lock-down to end so we can share this with all of our friends and family when they come to stay! One top tip as well is that once you've made these waffles, you can chop them into their quarters and store in a cool dry place up to a couple of days and whenever you're feeling a little hungry you can actually toast them and have them as a snack with your topping of choice!
So happy waffling, happy brunching and have a wonderful week ahead!
The world is a pretty crazy place at the moment so hopefully this post inspires you, and we would love to hear what you're cooking and also we'd love to see your attempts at the above dish and how you change it to be yours, so tweet us @rockinblues and @PlantBasedSQL on Twitter and let us know your snug story!